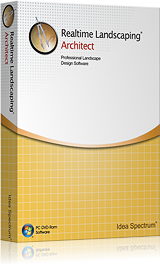 Realtime Landscaping Architect
Design professional landscape plans and presentations.
Create photo-based designs, plan drawings, and even full
3D walkthroughs, all for only $599
2023 Now Available. See What's New

Realtime Landscaping Architect
Design professional landscape plans and presentations.
Create photo-based designs, plan drawings, and even full
3D walkthroughs, all for only $599
Swimming Pool Design Software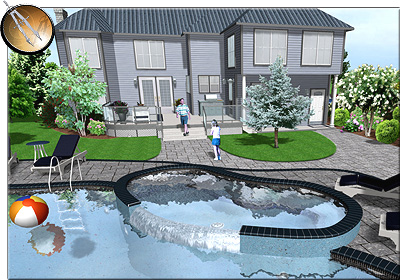 Professional Swimming Pool Design Software
Impress your clients with detailed 2D and 3D swimming pool designs using Realtime Landscaping Architect. Create virtually any conceivable swimming pool design with ease, and stand out among your competition with faster and more detailed designs.
Design professional swimming pool plans
Create effective presentations and videos
Powerful, yet easy to use design tools
17,000 objects, including 7,400 plants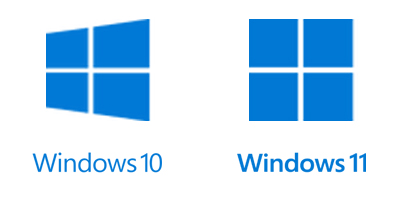 Design Below Ground and Above Ground Pools
Design both above ground pools and below ground pools using Realtime Landscaping Architect. Both types of pools are simple to design, yet offer an incredible amount of versatility.
Below ground swimming pools can be built in virtually any size and shape imaginable, from simple kidney-shaped designs to fully customized creations.
Above ground swimming pools are created in the same freeform fashion as below ground pools, and are simply elevated with a few clicks of the mouse.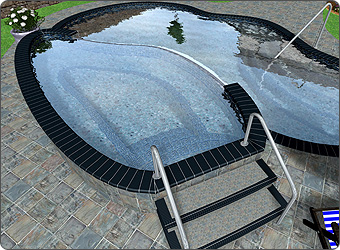 Design Spas and Hot Tubs
Create an unlimited variety of spas using the intuitive spa design tools included with Realtime Landscaping Architect. Design spas that flow into a swimming pool, are elevated or recessed into the pool decking, and even spas with infinity edges.
Add pre-built hot tubs to your swimming pool design with only a few clicks of the mouse. Choose from dozens of different hot tub styles, and customize the materials to accommodate your design ideas.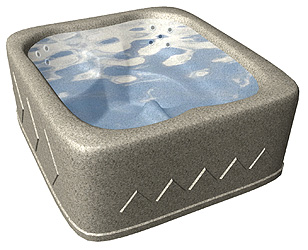 Create Detailed Swimming Pool Plans
Customize your swimming pool design in 2D to provide professional swimming pool plans. Choose between stylized options like watercolor or colored pencil, a traditional CAD style, or a realistic top-down view of the swimming pool design. Print your pool plan, e-mail it to a client or contractor, or even upload your plan to a website. Switch between the 2D Plan View and the 3D Perspective View with one click of the mouse.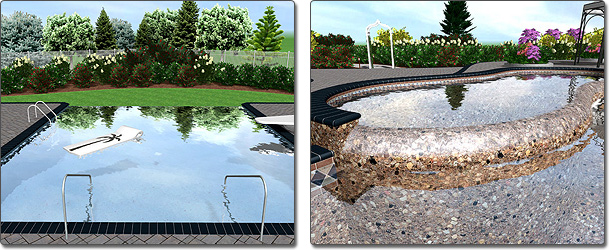 Create Infinity Edge Designs
Infinity edges add a stunning effect to your swimming pool designs. Use infinity edges to create an optical illusion, to join a spa with a swimming pool, or simply to create a tranquil water flow.
Multiple types of infinity edge profiles are available, allowing you to achieve the perfect swimming pool design. When viewing your design in the Realtime Walkthrough, water will realistically flow over each infinity edge.
Realistic Steam and Bubbling Spa Water
Spas, hot tubs, and swimming pools now support animated steam and turbulent bubbling water. Pre-built standalone hot tubs now also support realistic reflections and refractions.

Add Pool Stairs and Pool Seats
Design swimming pool seats and stairs in any shape and size needed to complement your swimming pool plan. Both curved and sharp shapes are supported. Many powerful options are available for determining the style of pool seats and stairs, such as the ability to set the rise and run of a set of pool stairs.
Customize both nosing and tile for each seat or set of pool stairs, adding an unprecedented level of detail to your 3D swimming pool design. Choose from hundreds of nosing and tile options.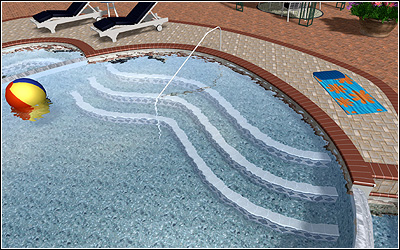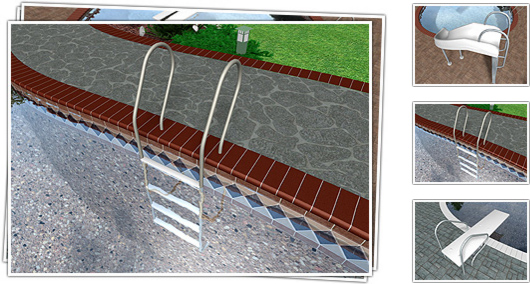 Swimming Pool Accessories from S.R. Smith
Customize your swimming pool design with more than 300 high quality pool accessories, including dozens of products from S.R. Smith. Use accessories to bring your designs to life, making them stand out among the competition.
Pool accessories include diving boards, handrails, pool ladders, water slides, pool toys, drains, filters, and more. Each swimming pool accessory can be resized as needed, and the materials of an accessory can be changed with just a few clicks of the mouse.
Import custom swimming pool accessories from the Google 3D Warehouse, expanding the available accessory options even further.
Plan Swimming Pool Lighting Designs
Visualize your swimming pool design at night, illuminated by adjustable pool lights. Add a pool light with just a few clicks of the mouse and then customize the light as needed.
Swimming pool lights can be placed on the walls or the floor of the swimming pool design. The brightness, color, size, and materials of the lights can be adjusted freely.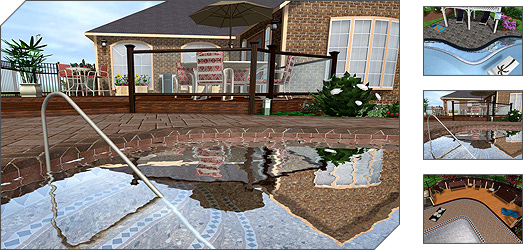 Illustrate Nearby Features
Design houses, decks, fencing, yards, gardens, roads, and much more with easy-to-use tools. Design the area around the swimming pool to increase the professionalism of your swimming pool plan by putting the pool into context.
Win more bids by showing your clients their complete landscape with your swimming pool design as the focal point.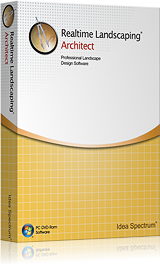 "The software is a complete set of tools for designing lawns, buildings, decks, patios, edging, retaining walls and other landscaping features." - Landscape Architect magazine review
Download Option: Immediately after making your purchase, you will have the option of downloading the software.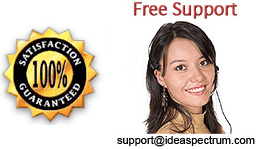 30 Day Money Back Guarantee
If you are not 100% satisfied with Realtime Landscaping Architect, simply return it within 30 days for a full refund. More